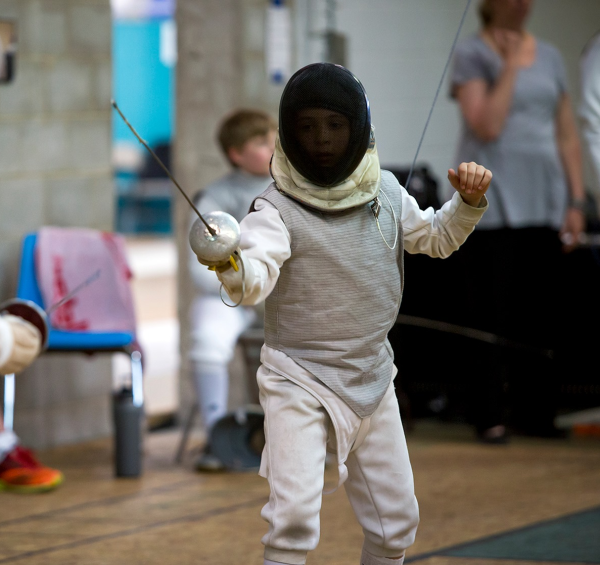 Interested in learning a new sport? The Richmond Fencing Club offers introductory fencing classes to all ages. The class is a perfect introduction to fencing for those who have never fenced before. This four week class offers an overview to fencing including:
Introduction to all three weapons (Foil, Epee and Sabre)
Use of equipment
Footwork basics
Introduction to rules, scoring, etc.
Basic fencing skills
All equipment needed is provided by the club and a non-competitive membership to USA Fencing is also included.
Introductory class offer: $99 for all 4 weeks
Classes forming each month. New classes start at the beginning of each month and run for 4 weeks with the exception of the 6-11 age group that runs for 8 weeks.
FAQS
Q. Can I come tour the club and watch before I commit to a class?
A. Sure! Email or call us and leave a message about touring and we will get back to you with all of the information you need.
Q. What should I wear to an intro to fencing class?
A. You should wear athletic PANTS and a shirt that you feel comfortable moving around in. Jeans and other stiff clothing will give you issues while fencing. You will also need close-toed athletic shoes. Crocs and flip flops are not acceptable.
Q. Do I need to buy gear for class?
A. We provide gear for intro and beginner classes. Our coaches and team members can guide you when you reach the level of needed personal equipment.
Q. I am a parent/guardian, do I have to stay with my fencer?
A. No, you do not have to remain in the building during your fencers' class(es). If you would like to watch them fence you may sit in any of our designated seating areas.
Q. How old do I have to be to fence?
A. You must be six years of age to fence.
Q. I just finished an intro to fencing class. What now?
A. The next step after intro to fencing is beginner classes. Go to the classes tab and choose a beginner class that works for you. After you sign up, you will receive a confirmation email and an invoice for the class. If you have questions about the different blades we offer, please see our "Fencing Basics" tab.
Other questions? Email us at This email address is being protected from spambots. You need JavaScript enabled to view it. or call us at (804) 622-3655!