Coaches and Staff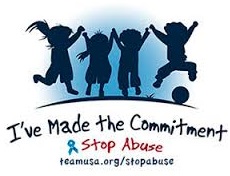 All Richmond Fencing Club Coaches, Assistants, and Board Members are committed to providing a safe environment for all of our students and members, and have completed SafeSport training to help them recognize abuse and bullying in Sport.
Office Manager Isabella Vincenzes
President Emeritus Tom Lucente
---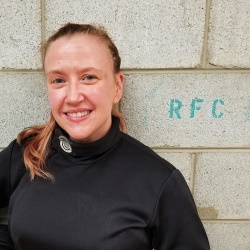 Cyndi began fencing in 1993 at Virginia Tech. She went on to serve as Captain of the women's team from 1995 to 1997, Chair of the Virginia Intercollegiate Women's Fencing Association in 1997, and women's foil coach in 1998. Cyndi has studied under many coaches, including Carl Przystawik, and is currently coached by Allen Evans of Dominion Fencing. She has also attended coaching clinics by Michael Marx. She and her husband Tom have been instrumental in making Richmond Fencing Club the success that it is today. Cyndi has been actively coaching at RFC since 2000 with a focus on competitive foil. She is also a nationally rated referee in all three weapons and has served on the VA Division board as a member-at-large from 2002 to 2005 and Treasurer from 2006 to 2008.
Cyndi is a four-time Virginia Division Women's Foil Champion (2005-2007, 2010) and a finalist in 2003-2004, and 2008. Cyndi was the Southeast Section Women's Foil Champion in 2010. She was the VA Division Women's Foil Points Champion from 2003 to 2011. She has also been a two-time Kickoff Women's Foil Champion in 2006, 2008, Hangover Classic finalist in 2007 and 2009, semi-finalist in 2010 and 2012 and a Charm City finalist in 2008. Cyndi has had top 8 results in the mixed events as well. She was also a member of the Women's Epee and Foil Championship teams in 2006 and 2010, both a first for Richmond Fencing Club. She is still an active competitor and consistently places in the top 8 of Virginia tournaments. Cyndi has earned a B14 in Foil, and is a Nationally rated Referee. Currently, Cyndi teaches intermediate and advanced level foil classes, and also provides private lessons in foil.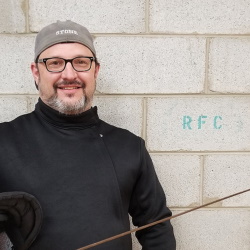 Matt began fencing in 1985 learning foil under Coach Van Wolosin at Newfield HS in NY. His high school was well known for fencing having sent a foilist from Newfield to the '76 Olympics (under coach Wolosin). In his senior year Matt fenced Varsity for the undefeated League and County championships (Suffolk County had 11 high schools with Varsity fencing programs).
Going on to Virginia Tech Matt was soon Captain of the Sabre team leading them to victories in the 90, 91 and 92 seasons of the Mid Atlantic Fencing College Associations. While there he won the Virginia cup for Sabre. Virginia Tech's Sabre team took first place in State Divisional championships three years running and in 1993 Matt was on the divisional championship team for Sabre, Epee and Foil that year. Matt was a competitive fencer (mostly Sabre) from 85-95 fencing in Division 1 nationals and various division 1 circuit events. In the early 90s when the US had their first Women's Sabre team championships three of the four members of the winning team were Sabre students of Matt's. In 1993 Matt was selected to get his Foil Certification at the coaches college in Colorado Springs by Maestro Marx, Maestro Richards and Maestro Beguinet.
A founding member of the Richmond Fencing Club Coach Stone taught foil classes at RFC from 2000 to 2003. He looks forward to coming back to this club that means so much to him.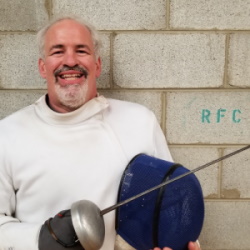 Danny Anderson, Sr. is a Virginian native growing up in the town of Matoaca in southern Chesterfield County. A graduate of Matoaca High School, he went on to earn a BS in Chemistry from Virginia Commonwealth University and his Ph.D. in Chemistry from Louisiana State University in Baton Rouge, LA. Coach Danny started fencing in 2007 and became a member of the Richmond Fencing Club in 2008. He actively coaches both the foil and epee programs at RFC and is clubs armorer as well. Danny is an active competitor fencing epee in both the senior and veterans divisions. He is a qualified referee in all three weapons.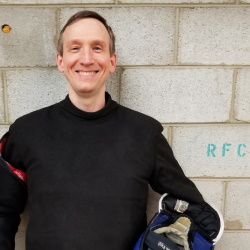 Mike began fencing in 2000 at Richmond Fencing Club. He is a B rated Epee fencer and has studied under coaches Dan Calder, Matt Stone, Jeff Snider, Scott O'Neal, Allen Evans, and Dee Hayes. In addition to first place finishes at the Richmond Tune-Up Open in 2013 and the Manassas Veterans Open in 2011, Mike has had numerous top 4 and top 8 finishes throughout his fencing career. Mike teaches the Intermediate and Competitive Epee classes.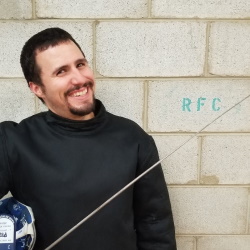 Tim has been fencing for 16 years beginning with foil in 2001 at the Virginia Academy of Fencing. In 2009 he switched to his primary blade of Sabre and has never gone back.
​His love for the sport continued when he went to college, taking an active role in the James Madison University Fencing Club. His senior year he became the Vice President of the club. Representing the Dukes 21 times in his college career, he most notably finished in 3rd place his senior year individually at the Virginia Cup. He also helped lead men's Sabre to a first place finish in the team event. The same year at the SAC Championships, Tim finished 6th individually and helped lead men's Sabre to a 2nd overall finish.
Tim continues to be actively involved in USFA even after graduating. He updated his national rating to a D2017 at the River City Rumble. Teaching and conversing about fencing is truly a passion of Tim's and he is very excited to be part of the budding Sabre program at Richmond Fencing Club. Tim is available to give private lessons for Sabre. Please contact the club for further inquiries.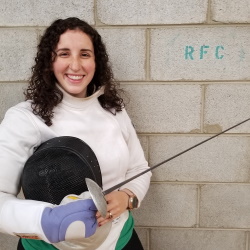 Melanie has been fencing foil since 2007. She learned to love the sport at the James Madison University Fencing Club. While a student of JMU FC, Melanie served two years as club secretary. Melanie was the individual Virginia Inter-Collegiate Women Fencing Association Champion in foil in 2010. Melanie also captained the women's foil team which placed 3rd at the National Collegiate Fencing Championship in the same year. Melanie has been a fencer with Richmond Fencing Club since 2011 and has studied under coach Cyndi Lucente. Melanie earned a D rating and placed first in the local events of Coastal Clash 2016, Coastal Clash 2017 and the River City Rumble 2014. Melanie has had top 8 finishes in the Regional Events Charm City Classic 2015, Charm City Classic 2016, and Kick Off Open 2016. Melanie has achieved top 16 finishes in National Div III events in 2016 and 2017. Melanie has been coaching at Richmond Fencing Club since 2018. Melanie has a joy and passion for foil which she shares with her students. Melanie's beginner and intermediate foil classes focus on helping fencers to combine learned skills with practical strategy to be used in bouts.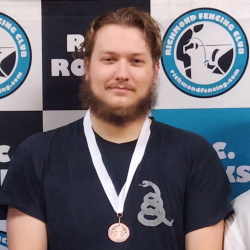 Jimmy started fencing with RFC at the age of 10. He then went off to the Marines in 2014 and returned back in 2021. Prior to leaving he earned his A in Epee in 2012, and earned his B again after returning in 2021. He is a Virginia native, born and raised in Henrico. He graduated from Godwin in 2013. He currently teaches beginner Epee and y12 foil.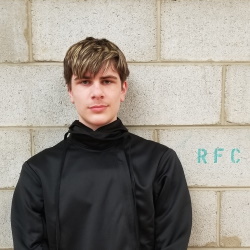 Jon Galemore started fencing in 2017 at Dark Horse Fencing Club. He later fenced with the Mechanicsville Fencing club, and eventually joined Richmond Fencing Club a couple years later. Jon started fencing competitively in 2018 earning his E rating in Foil. In 2019 he started coaching at Dark Horse. The following year he earned his D and started coaching at RFC. He currently teaches and competes in Foil.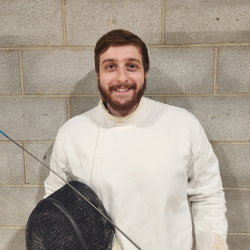 Joe started fencing in 2008 right here at Richmond Fencing Club, learning primarily under head coach Cyndi Lucente. He earned his C in foil in 2016 after winning the Hangover Classic Div III Foil event. He took his love of fencing to the University of Virginia where he served as President of the fencing club for two years, and foil captain for three. Joe placed first in the Virginia Cup for men's foil twice while attending UVA. Joe teaches beginner and intermediate foil classes, bringing his passion for the sport and his teaching experience from school to every lesson.
Izzy was raised in South Jersey and moved to San Antonio their junior year of high school. They moved to Richmond and started coming to RFC in 2021. Soon after coming they asked to join our team. They attend college at University of Texas at San Antonio. Although fencing may not be their first passion, they have learned to love the sport as well as the people who participate in it. They are happy to be our office manager as well as a y12 foil teacher. They look forward to her future with the RFC family.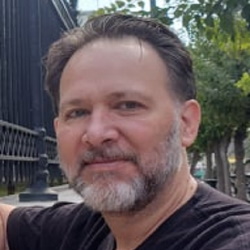 Tom served as President of Richmond Fencing Club's Board of Directors and 501(c)(3), and also served as the Club Manager, responsible for setting Club policy, oversight of day-to-day operations, and strategic decisions. Tom is also a C-rated Epee fencer, having previously taken lessons from Jeff Snider and Allen Evans, and is a Nationally rated Foil Referee (F5).